Gaskets
Innovative gasket materials
novaphit®

Graphite gaskets
High-quality gaskets made from expanded graphite
The novaphit® product family comprises a range of high-quality expanded graphite flat gasket materials – made in Germany. novaphit® gaskets are reliable and durable even at the outer application limits, which makes them the perfect choice wherever excellent efficiency and performance paired with maximum process reliability are required.
novaphit® gaskets have the following properties:
Temperature range from -200°C to 550°C
Universal chemical resistance
Excellent adaptability to flange unevenness
Insensitive to changing loads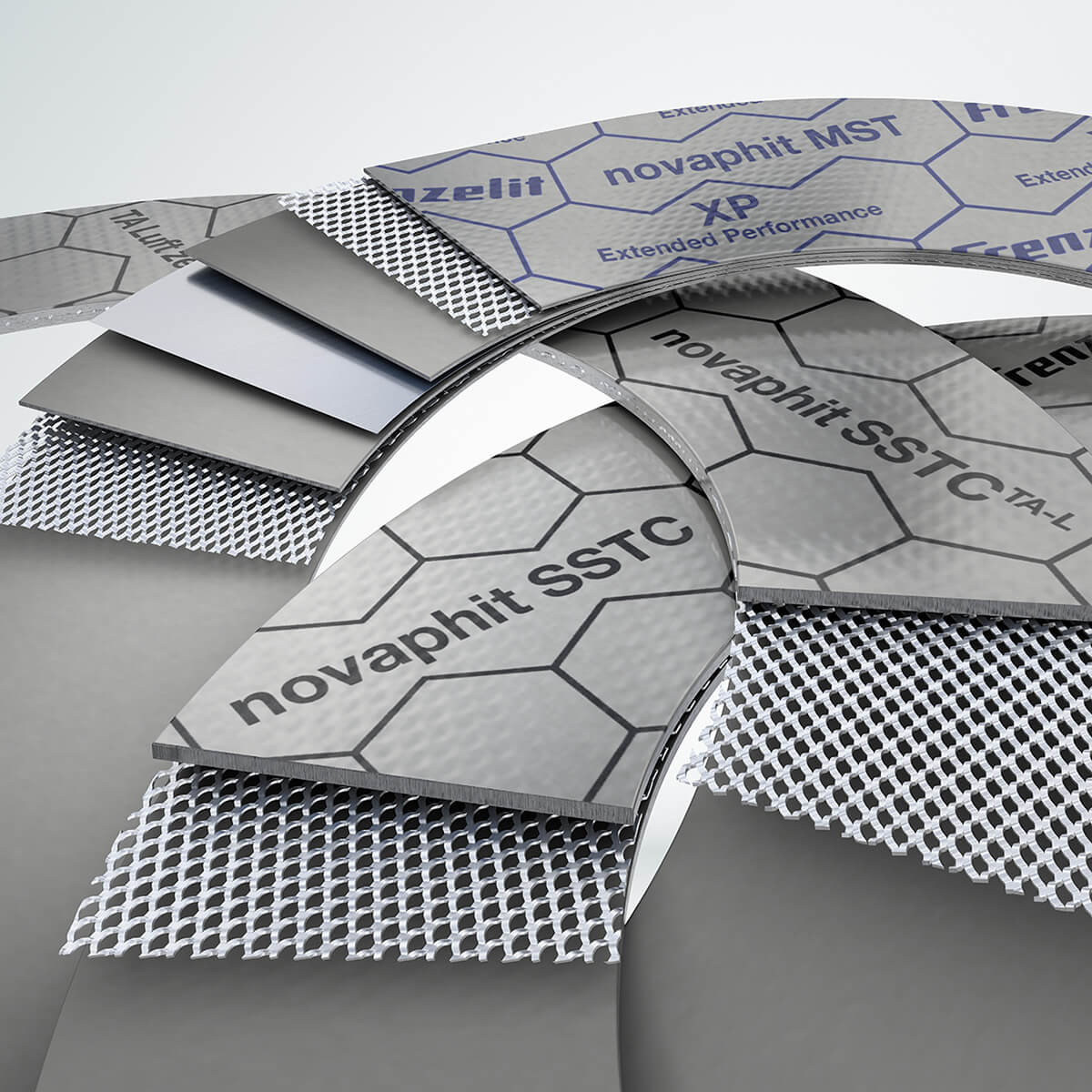 Future applications with hydrogen
In the future, Frenzelit will mark products suitable for hydrogen applications with a registered H2 - logo. Materials and products marked as "H2 - approved" have been tested in both resistance and leakage tests with the medium hydrogen and their suitability has been proven.
High-performance gasket with multilayer structure
novaphit® MST stands for the highest performance. This material combines highly pure, premium-quality graphite foils with multiple layers of perfectly coordinated expanded metal and flat metal inserts (up to eight graphite layers and seven inserts depending on the material thickness). This material structure creates unique mechanical properties with the lowest leakage values and guarantees excellent performance in use.
novaphit® MST's multilayer concept provides optimum handling and allows extremely high pressure and temperature loads – even under changing load conditions. Thanks to its sophisticated layered structure, novaphit® MST can withstand above-average surface pressures and even extreme pressure loads (internal pressure up to 250 bar).
novaphit® MST is extremely dimensionally stable and can be easily processed using all standard methods – even manually on site. Its outstanding adaptability means that novaphit® MST forgives installation errors and even compensates for damaged flange surfaces.
novaphit® MST meets the most stringent requirements with regard to preventing diffuse emissions and is considered "high quality" in terms of TA Luft. Thanks to its superior performance, novaphit® MST makes it possible to produce gasket connections in compliance with the strict criteria of TA Luft and VDI 2290. It goes without saying that all required gasket parameters are available according to DIN EN 13555. This makes useful, real-world designs possible according to DIN EN 1591-1.
Further approvals make novaphit® MST the ideal all-round, one-size-fits-all solution for the entire plant. You're definitely on the safe side with novaphit® MST!
XP technology is standard in novaphit® MST, giving it increased oxidation resistance and optimized anti-stick properties.
Brochure, technical data sheet and characteristic values
Certifications, approvals and tests: