Gaskets
Innovative gasket materials
novapress®

Elastomer-bonded fiber gaskets
Future-oriented fiber gaskets
The novapress® product family represents the latest technology in fiber-based gasket sheets. The use of the latest process technology and a process control system for the entire manufacturing process guarantees consistent quality at the highest level – made in Germany.
novapress® is a group of elastomer-bonded gasket materials based on high-quality aramid fibers and special functional fillers. novapress® products are the standard in flat gasket applications and cover nearly all conventional applications; however, each product has special properties that make it ideal for use in specific applications.
Whether it's innovative materials or gasket solutions that have been used successfully for many years – the novapress® product line offers you the right gasket material for countless applications.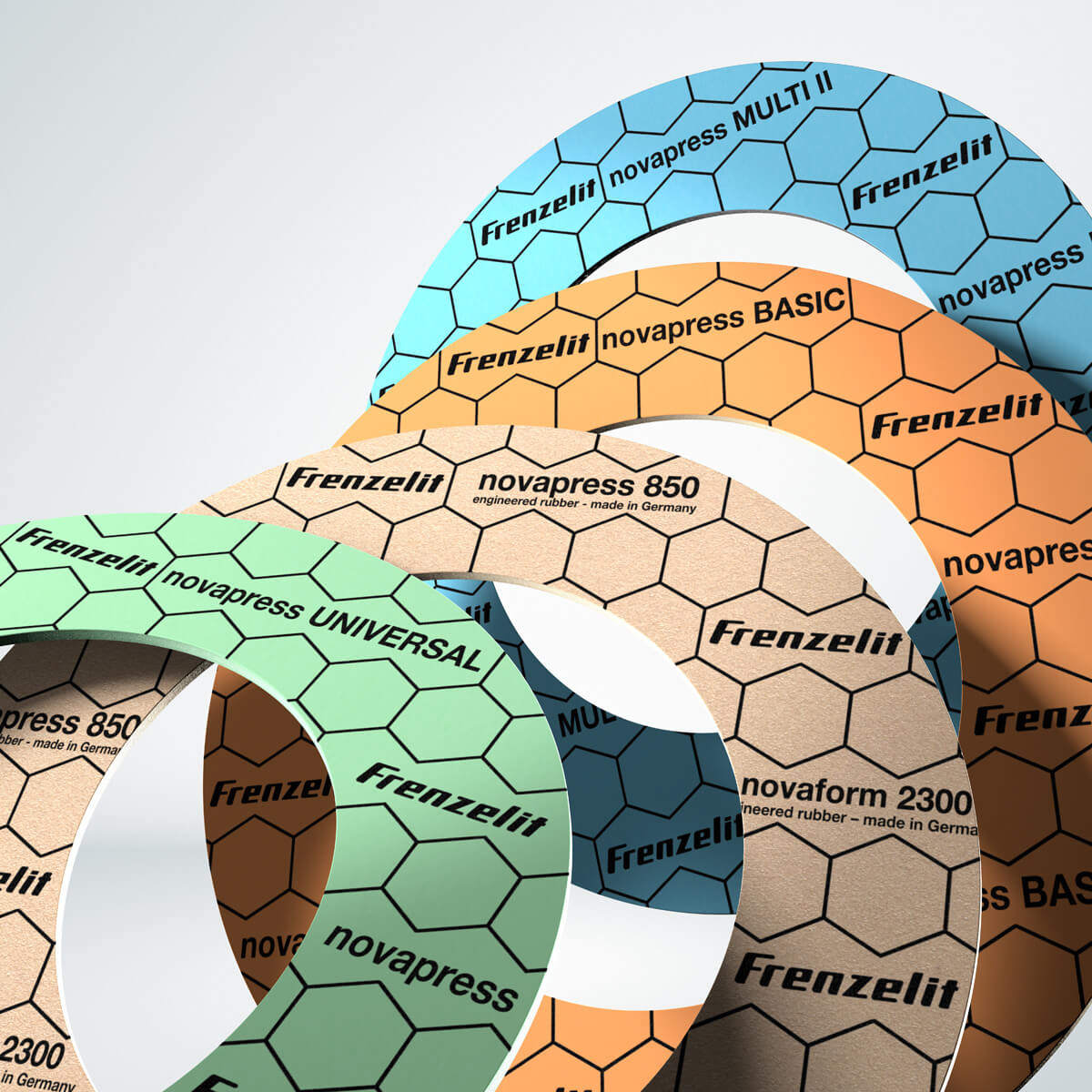 ---
Elastomer Guideline - Transfer to KTW - BWGL
The validity of the elastomer guideline expires at the end of 2021. From 01 January 2022, the Elastomer Guideline (ELL) will be integrated into the KTW BWGL (Plastics in Drinking Water - Basis for Assessment) as Annex D. For the mandatory validity to meet the requirements according to the KTW BWGL, a transition period of 2 years is foreseen, i.e. until the end of 2023. Within these 2 years, test reports according to the previous elastomer guideline (and W270) may still be used to prove suitability.
Learn more:
---
Future applications with hydrogen
In the future, Frenzelit will mark products suitable for hydrogen applications with a registered H2 - logo. Materials and products marked as "H2 - approved" have been tested in both resistance and leakage tests with the medium hydrogen and their suitability has been proven.
The pioneering fiber gasket for Industry 4.0
novapress® 880 combines excellent adaptability to flange unevenness with outstanding mechanical stability. Thus it complies reliably with the sealing category demanded by the VDI directive 2290 and TA Luft even in case of low surface pressure levels – whether or not an inner eyelet is applied. Thanks to its outstanding gasket parameters according to DIN EN 13555 it is possible to achieve technically effective gasket designs for flange calculations according to DIN EN 1591-1, which also include all system-related tightening tolerances.
As the first soft gasket for Industry 4.0, novapress® 880 has innovative Gasket Code Technology standard, which ensures reliable and unique identification of the material – including the production period – from even the smallest gasket dimensions.
Key properties of novapress® 880 at a glance:
Approx. 3x higher adaptability compared to conventional fiber gaskets

High mechanical stability even under temperature stress

Exceptional chemical resistance and very universal use

High-quality in terms of TA Luft

Nearly identical properties according to DIN EN 13555 – with or without inner eyelet
* Note on PFAS: The optional or standard PTFE surface coating of the novapress® product series can be replaced by PFAS-free surface coatings from our product range on request.
Brochure, technical data sheet and characteristic values
Certifications, approvals and tests: