Gaskets
Innovative gasket materials
novamica®

Phlogopite mica gaskets
High-temperature phlogopite mica-based materials
The novamica® product family is based on high-grade, optimized phlogopite mica, which is far superior to other types of mica in terms of temperature resistance. In combination with an effective binder system, novamica® opens up a variety of application possibilities in high temperature ranges. novamica® materials have excellent performance characteristics thanks to their extremely low binder content. novamica® enables reliable solutions for applications that cannot be not covered by conventional gasket materials.
novamica® gaskets have the following properties:
Extreme temperature resistance up to 1000 °C
High chemical resistance – even against aggressive and corrosive media
Good thermal and electrical insulation properties
Incombustible (DNI = does not ignite – according to ASTM SAE J369 fire test)
Good adaptability to flange unevenness
Reliable long-term performance even at maximum temperatures
Extremely low binder content guarantees long-term stability
novamica® products are not only suitable as conventional high-temperature gaskets but also as insulation materials or temperature-resistant compensation elements.
However, novamica® materials are best suited for applications with a temperature level of 400°C or higher.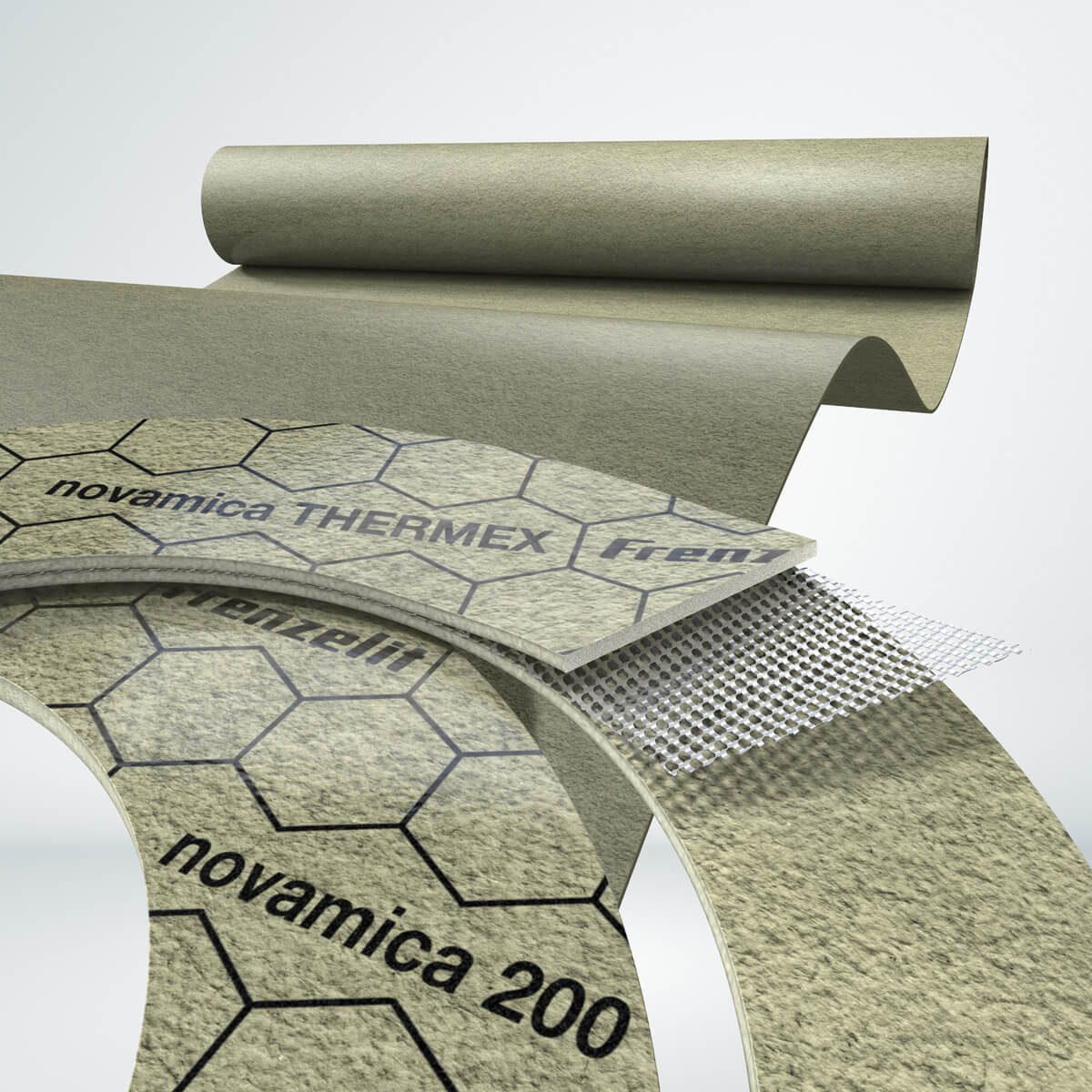 The gasket solution for the highest temperature loads
novamica® THERMEX combines the positive properties of optimized phlogopite mica with those of the expanded metal concept, like the way it is used for example in novaphit® SSTC. novamica® THERMEX is designed for use as a conventional gasket material in high temperatures. It is ideal for all sealing requirements in hot gas and exhaust applications (such as exhaust systems, turbochargers, etc.) up to 1000 °C.
novamica® THERMEX is a composite material featuring a perfectly balanced binder system and proven expanded metal insert for internal strength and never-before-seen long-term sealing performance in high temperature ranges. The stainless steel expanded metal insert additionally gives the material reliable handling and processing properties. Even complex geometries can be realized with ease with all conventional manufacturing processes thanks to novamica® THERMEX.
Brochure, technical data sheet and characteristic values
Certifications, approvals and tests: