Gaskets
Innovative gasket materials
novaflon®

PTFE gaskets
Effective PTFE gaskets with universal media resistance
The novaflon® product line is based on modified or expanded PTFE. This material makes the gaskets resistant to most acids and alkalis throughout the entire pH range from 0 to 14. novaflon® gaskets can therefore be used universally with nearly all media and are perfect for use in the chemical industry. Moreover, novaflon® complies with Regulation (EC) No. 1935/2004 and meets the strict requirements of the FDA guideline. This means that novaflon® can be used in both food production and the pharmaceutical industry.
All members of the novaflon® family have excellent leakage properties and easily meet the TA Luft (German Technical Instructions on Air Quality Control) criteria [leakage rate < 10-4 mbar·l/(s·m)]. They are high quality in terms of TA Luft and make a valuable contribution to environmental protection.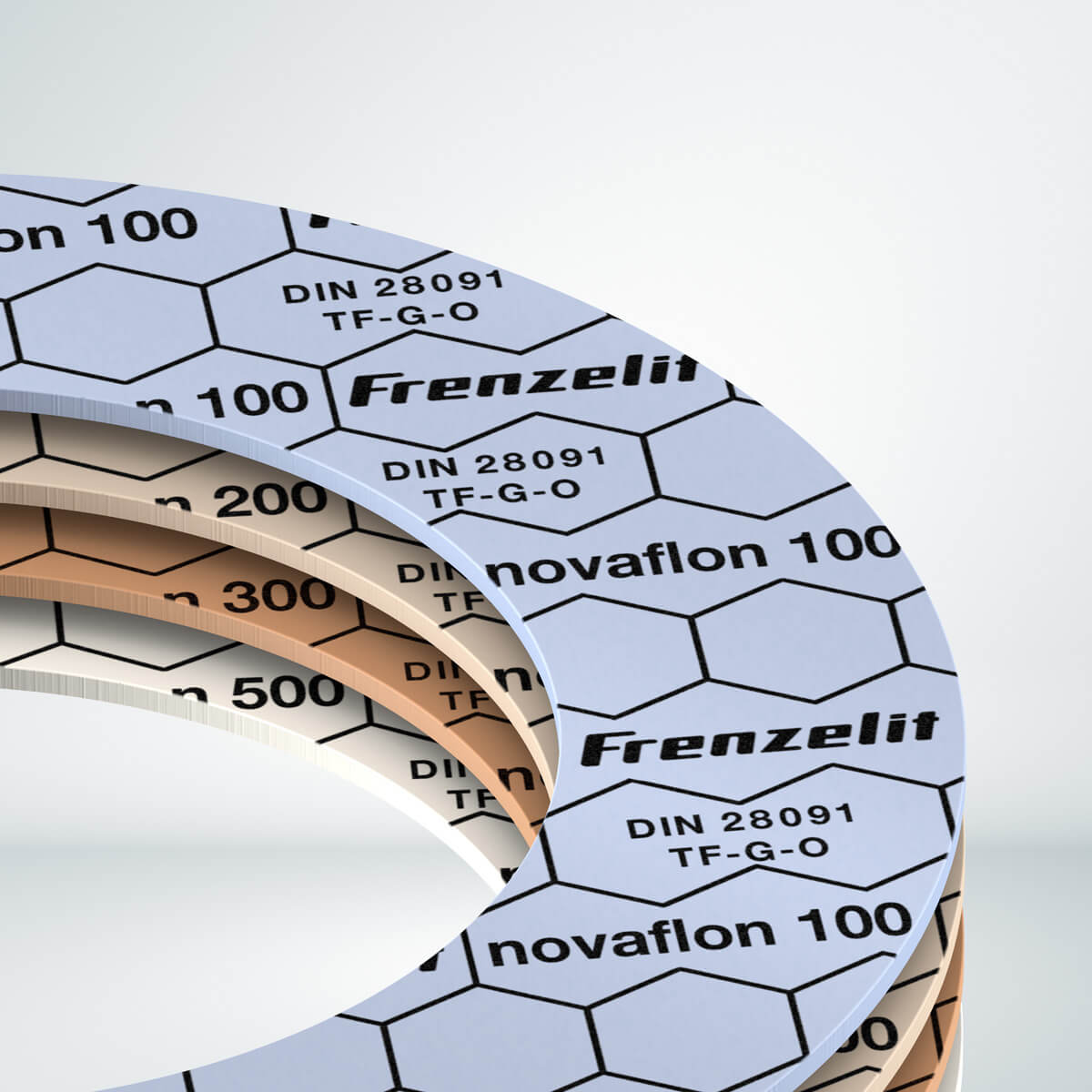 novaflon® can be used in a wide temperature range from -210 °C to +260 °C and has an unlimited shelf life when stored in compliance with the recommended storage conditions according to ISO 2230.
novaflon® gaskets offer a number of key advantages over pure (virgin) PTFE produced using conventional methods:
Stopped cold flow1 and greatly reduced hot creep2
Resistant to high pressure and temperature loads
High residual stress
Good mechanical strength (even under temperature stress)
Blow-out resistant according to VDI directive 2200
1 = Deformation under pressure exposure without heating
2 = Creep properties under pressure and temperature exposure
Pure, multidirectional ePTFE with extremely high pressure resistance
novaflon® 500 consists of 100% pure, multidirectional expanded PTFE. The expansion process results in highly interconnected PTFE fibers oriented in many directions. This ensures an extremely low setting behavior of the gasket under temperature stress.
novaflon® 500 has the following advantages:
Maximum universal chemical resistance

No cold flow typical of PTFE

Dimensionally stable
novaflon® 500 has nearly universal fluid resistance as no fillers are used. Thanks to its unique material concept, the material has extremely high compression, which guarantees good adaptability to flange unevenness. This makes novaflon® 500 ideal for pipe systems and reactors in the process industry, but also for standard applications in the pharmaceutical, food and beverage industry.
Brochure, technical data sheet and characteristic values
Certifications, approvals and tests: