Gaskets
Innovative gasket materials
Frenzelit inner eyelet technology

A new performance class
Significant increase in sealing performance of static gaskets
Conventional inner eyelet technology is used throughout the chemical and process industry even though it rarely improves the performance of modern gasket materials in terms of their sealing properties, i.e. effectiveness in reducing emissions. Frenzelit has developed a novel inner eyelet technology that advances gaskets with a metal eyelet to a new performance class and actively contributes to the reduction of emissions.
This new technology completely eliminates all of the drawbacks of conventional metal eyelets, such as their inability to adapt to uneven flanges (see figure 1, top).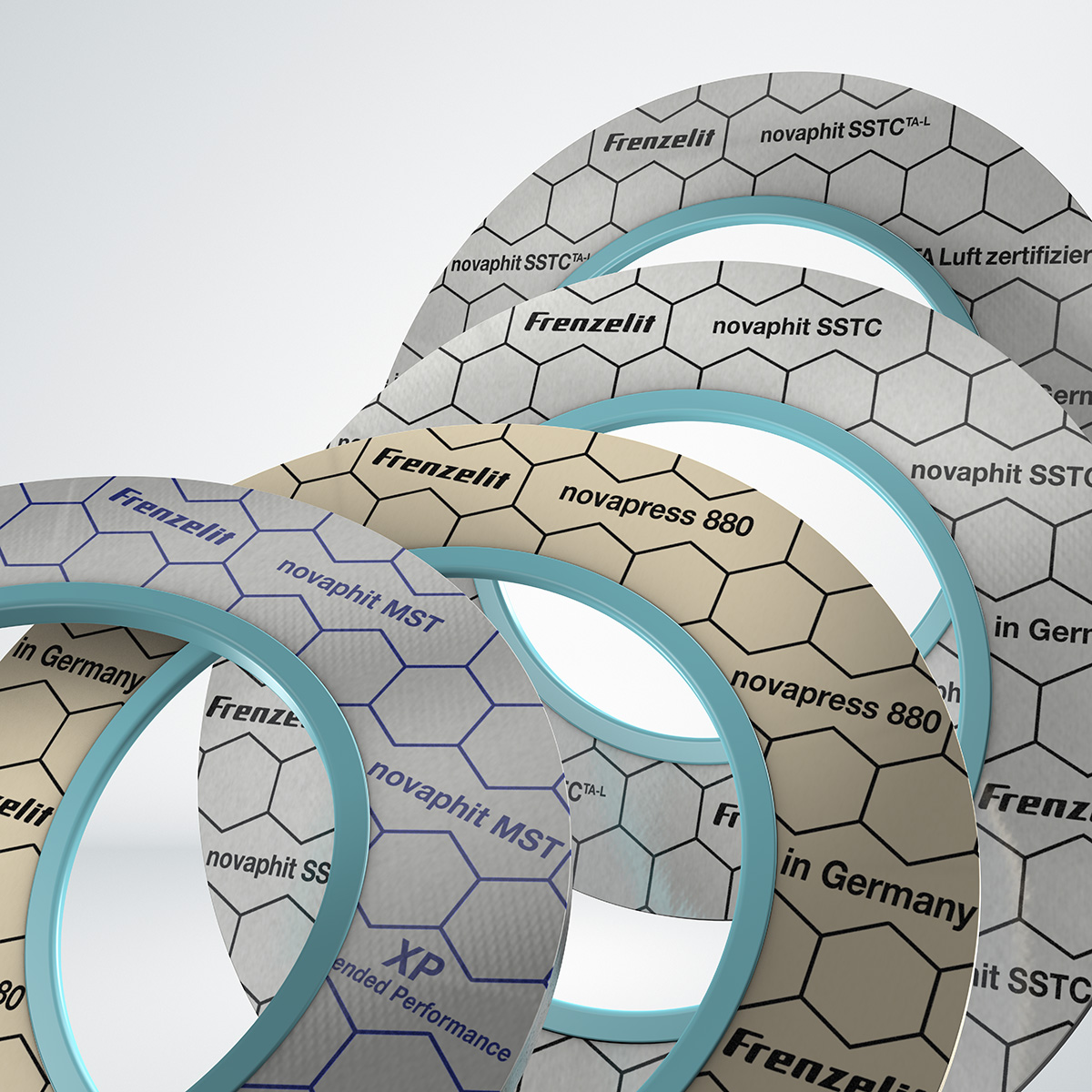 New performance class for eyelets thanks to Frenzelit inner eyelet technology
Inner eyelet technology is deeply rooted in many industries and is often required by standards and specifications for historical reasons. The objective was to advance the established technology to greatly improve the performance capabilities of gaskets with inner eyelets. This innovative step is based on a novel eyelet that is coated with an elastomer layer. The coating's flexibility allows for perfect adaptability to the flange and eliminates all of the problems associated with metal-to-metal contact. Flange unevenness is smoothed out and leakage pathways are effectively blocked (see figure 1, bottom). The new inner eyelet technology uses a fluorinated elastomer as the coating material. In addition to adaptability, this gives it enhanced chemical resistance (e.g. against oxidizing substances or strong acids such as nitric acid) compared to standard inner eyelet materials. This new technology can be combined with various Frenzelit gasket materials to achieve a significant reduction of leakage rates – even in modified flanges with defined imperfections (compare figure 2 und 3).
Download brochure
The NEW Frenzelit inner eyelet technology
---
There have not been any major developments in inner eyelet technology in recent years. Therefore, Frenzelit's new inner eyelet technology represents a quantum leap in sealing performance. All Frenzelit gasket products are designed to reduce emissions and ultimately improve tightness and longevity of sealing systems. The extraordinary properties of Frenzelit's new inner eyelet technology open up completely new technical solutions and areas of application for gaskets with a metal eyelet.
---
Available Frenzelit gasket materials:
---
Future applications with hydrogen
The new inner eyelet technology is of interest for more than just applications in the chemical and process industry; it is also viable for applications with hydrogen, which is currently gaining relevance in many areas (hydrogen production, hydrogen in natural gas grids). The molecule's small size makes sealing hydrogen one of the most challenging tasks. It is possible to achieve significantly improved tightness classes with the new inner eyelet technology while also ensuring excellent resistance to hydrogen. This means gaskets equipped with the technology will be very interesting for all kinds of future applications with hydrogen.